St. Francis School has rolling admissions.
Now Accepting Registrations for 2015-2016  School Year
SFA Upcoming Events:
September 25 Teacher Professional Development Day – NO SCHOOL
October 7th – Early Dismissal @ 11:30 AM
October 20th – Grade 8 Field Trip to Senate Immersion Module)
October 20th – 23rd : Scholastic Book Fair (Church Hall)
October 27th – Individual Student Portraits
Oct 31st – Pumpkin Run
Saint Francis of Assisi Mission Statement
We are a Catholic community of faith striving to follow Jesus, pledging each day to do our best by imitating St. Francis of Assisi as "instruments of peace." Our goal is to maintain a safe and healthy environment and to be academically prepared for this technological age.
About Saint Francis of Assisi School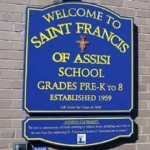 Saint Francis of Assisi School is a Catholic elementary parish school that encompasses grades PreK-8. We are a community of faith, striving to follow Jesus through a collaborative effort with school, home, and parish. We come together from local communities to develop and nurture a student body of varying talents, abilities and unique gifts.
The goal of St. Francis of Assisi School is to instill in the heart of each child: knowledge, love of God, acceptance of self, and respect for others. With the good example and cooperation of their parents, we hope to prepare our students for the life Christ came to give, by imitating Saint Francis of Assisi as "instruments of peace."
As educators, our goal is to graduate students who have strong moral standards and academic skills, who will become good citizens and able members of society. We are committed to providing a safe and healthy environment for our students.
Opportunities are continuously provided for them to extend and develop their spiritual lives through formal and informal faith instruction. Our family comes together for prayerful celebration in monthly liturgies prepared by each grade.
Who was St. Francis?
| | |
| --- | --- |
| | St. Francis of Assisi, the patron saint of animals and ecology, was a Roman Catholic saint who tried to follow all Jesus said and did. |